Message from the DISC Office
Dear all,
Welcome back after the summer holidays.
It is good to see that so many PhD's have already registered for the new DISC courses 2023-2024. We start with the DISC courses in Utrecht per 16-10-2023. If you have not registered yet, please check out the item below for more information.
With best regards,
Henk Nijmeijer,
scientific director
Renate Kragtwijk,
DISC secretariat
Course program 2023-2024
The DISC course program 2023-2024 is almost finalised.
We start in October 2023 and the courses will take place in Utrecht at Cursus- en vergadercentrum Domstad.
We offer the following courses:
Probabilistic Sensor Fusion
Summer School "Control of Power and Energy Systems" – September 12-15, 2023
The DISC Summer School "Control of Power and Energy Systems" held in NH Leeuwenhorst attracted 22 participants from the participating groups and 1 PhD from the University of Leeds.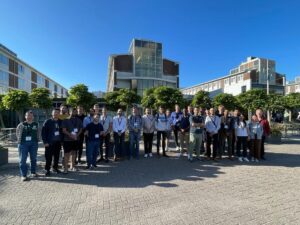 Ashish Cherukuri (RUG),  Sergio Grammatico (TUD) and Mircea Lazar (TU/e), thank you for organizing the event !
Jacquelien Scherpen became Rector Magnificus of the University of Groningen
On September 1, during the opening ceremony of the 2023-2024 academic year at the University of Groningen, Jacquelien Scherpen was inaugurated as Rector Magnificus of the university. Her appointment has been highly praised by the chair of the university's Supervisory Board: "She is capable of giving attention to teaching and research in a balanced way and of maintaining the important and healthy relationship with the student community. She has already had an impressive career and has more than earned her academic spurs. With her expansive network, she is well equipped to represent the UG in various bodies." The President of the Board of the university added that "she is a leading scientist, and her work is regarded as innovative and groundbreaking both nationally and internationally." Jacquelien gave a brief acceptance speech during the ceremony. She gave a concise overview of her professional career in the field of systems and control,  stressing the importance of "groundbreaking multidisciplinary and interdisciplinary developments in teaching and research that contribute to solving societal issues."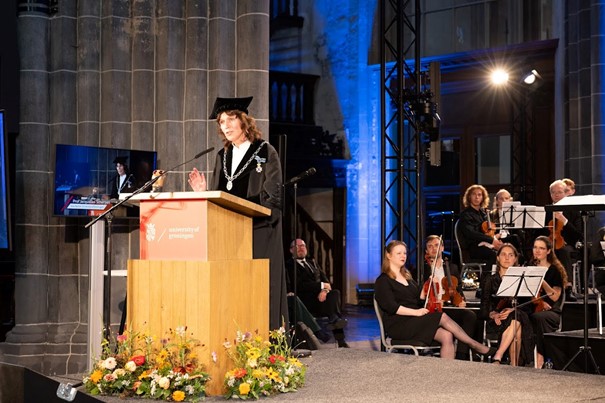 Henk Nijmeijer, Scientific Director of DISC and Jan Willem Polderman, Chair of the DISC Board, attended the ceremony. Afterwards, they presented, on behalf of DISC, to Jacquelien a gift to commemorate this inauguration ceremony.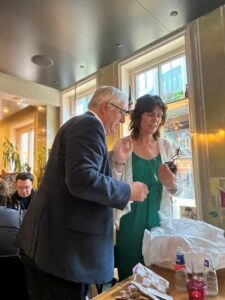 "Five decades of systems and control theory in Groningen" and "Workshop dedicated to Harry Trentelman's retirement"
Two workshops  "Five decades of systems and control theory in Groningen"  and "Workshop dedicated to Harry Trentelman's retirement" were held in Groningen on September 21-23.
The first workshop was dedicated to celebrating the 50th anniversary of the founding of the Systeemtheorie en Regeltechniek research group at the Mathematics Institute of the University of Groningen. Half a century ago, Jan Willems established this group, which has since become a leading center for research and education in systems and control theory both at the national and international level. The workshop paid tribute to this legacy, reflecting on the many achievements of the Groningen systems and control community and its impact on the field over the past 50 years.
The second workshop was dedicated to honoring Harry Trentelman, who retired after more than 30 years of dedicated service, making him the longest-serving member of the systems and control community in Groningen. With deep gratitude for his decades of commitment, the workshop celebrated his contributions and legacy.
Both workshops featured a series of talks by current and former members of the Dutch systems and control community, as well as international guests. We thank to all the speakers and participants who made these events possible.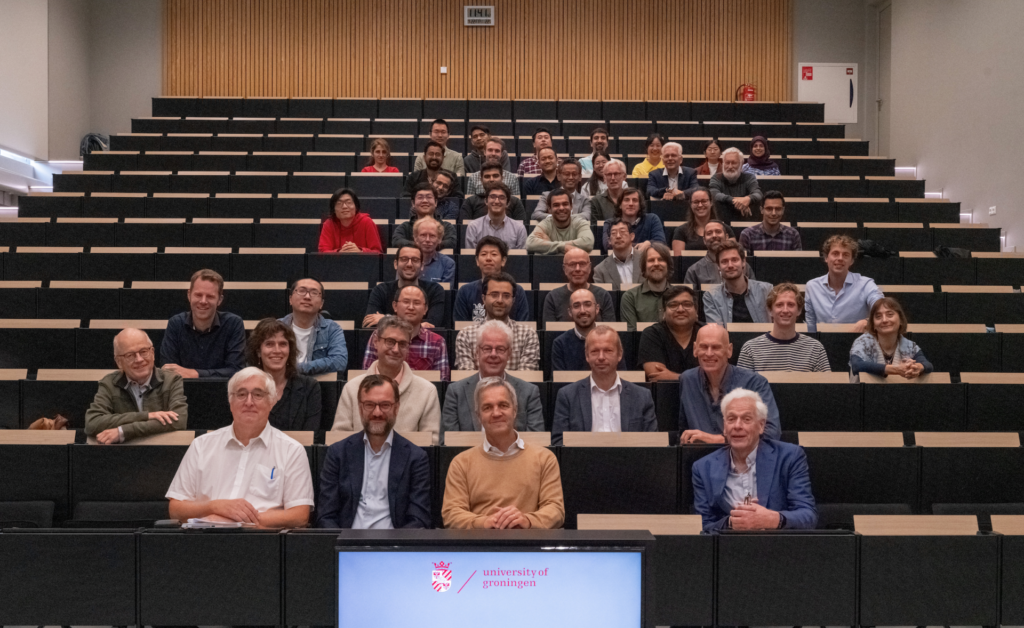 NWO Veni Grant for Henk van Waarde (RUG)
Dr. Henk van Waarde, assistant professor in the Systems, Control and Optimization Group at the University of Groningen, has received an NWO Veni Grant for his project "Kernel-based control theory of nonlinear systems".
More information can be found on the website of NWO here.
Veni grant for Cosimo Della Santina (TUD- 3ME – COR)
Dr. Cosimo Della Santina, assistant professor in Learning and Autonomous Control at TU Delft, has received a Veni Grant for the ROSES project.  The grant will be used for a research project from giving robots the intelligence to handle deformable objects
Robots handling deformable objects
Robots' penetration in the human environment is hindered. According to Cosimo Della Santina, this is because robots are still unable to manipulate the vast range of objects we are used to interacting with within our daily lives. For example, robots struggle with mundane tasks like filling up a car at a gas station or untangling two cables. This is because all these tasks involve manipulating deformable objects.
"Within the ROSES project, I will uncover the principles behind this and hope to ultimately equip robots with the intelligence necessary to touch and modify their surroundings reliably," says Della Santina. "What I am very excited about is that ROSES concerns fundamental research with direct real-world applications, ranging from agriculture to space exploration."
New people
Eindhoven University of Technology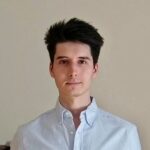 Name: Máté Kiss,
Starting date: 14-08-2023
Function: PhD
Email: m.kiss@tue.nl
Group: TU/e – EE
Supervisor: dr. Maarten Schoukens
Project: Data-Driven Model Completion: from experimental design to interpretable models
I am a Hungarian in Eindhoven, with an MSc in Structural Engineering and with a background in Nonlinear Vibrations, working on the ERC project of Maarten Schoukens. In my free time, I like swimming and cooking.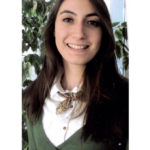 Name: Dilan Öztürk Şener
Starting date: 01-09-2023
Function: PD
Email: d.ozturk.sener@tue.nl
Group: TU/e – Control Systems – EE
Supervisor: dr. Maarten Schoukens
Project: CELLSYSTEMICS – Human Measurement Models 2.0
Dilan Öztürk Şener is a Post-Doctoral Researcher in the Control Systems (CS) Group at the Department of Electrical Engineering, Eindhoven University of Technology (TU/e). Her main research interests include the system identification and control theory of nonlinear dynamical and time delay systems, mathematical biology and analysis of dynamical behaviors.
Dilan Öztürk Şener received her PhD degree in Electrical and Electronics Engineering from Bilkent University in July 2023. During her PhD studies, she worked on the mathematical models of gene regulatory networks from the system theory point of view and their stability analysis. She also received her BSc and MSc degrees from the same department in June 2015 and August 2017, respectively.
Groningen University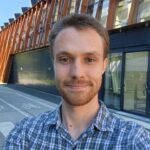 Name: Rory C. Gavin
Starting date: 01-09-2023
Function: PhD
Email: r.c.gavin@rug.nl
Group: RUG – ENTEG – DTPA
Supervisor: Dr. Ming Cao
Project: Collective decision-making of networks of robotics
Since my childhood, I have been fascinated with math, physics, and building things.  Because of this fascination, after high school I studied engineering at the University of Sheffield, where my chosen course of study was Automatic Control and Systems Engineering.  Having earned an MEng in and developed a strong passion for this subject area, I am now working towards a PhD on the topic of collective decision-making of networks of robotics to further develop my knowledge in the subject area that excites me!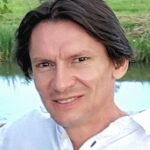 Name: Hayden Anthony Phillips Brenes
Starting date: 01-09-2023
Function: Technician DTPA
Email: h.a.phillips.brenes@rug.nl
Group: RUG – ENTEG – DTPA
Received his B.Sc. Eng., L.Eng., and M.Sc. degrees in electrical engineering from Costa Rica Institute of Technology, in 2000, 2015 and 2017, respectively.
He is currently pursuing a doctoral degree in the program Doctorate in Natural Science for Development (DOCINADE) with emphasis on Applied Electronic Technologies, just pending to defend his thesis.
He collaborated as a researcher and lecturer in the Costa Rica Institute of Technology in Cartago, Costa Rica from 2015 to 2018, mainly with the Electronic and Chemical departments. From 2019  to 2023, he was promoted to lead the Decentralized Unit of Electronics Engineering for the Costa Rica Institute of Technology, Alajuela, Costa Rica, as a coordinator of academic affairs and research.
From 2000 to 2015, he worked as a process engineer in the manufacturing and design development of microelectronic technology for telecommunications, medical and automotive companies, such as REMEC, Cytyc Surgical Products, Continental Automotive Systems, Boston Scientific and L3 Communications.
In 2022 he visited RUG for 3 months to complete his doctoral internship and he got very impressed by the city of Groningen. In agreement with his family, he decided to apply for a position in the Discrete Technology and  Production Automation group and they moved to The Netherlands to start a new life.
His research interests include microelectronic systems, renewable power generation, electrical drives, automatic control and prototypes design.
His hobbies are playing the guitar and outdoor sports, like biking, basketball and football.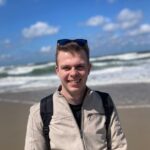 Name: Melvyn Wildeboer
Starting date: 01-10-2023
Function: PhD
Email: m.d.wildeboer@rug.nl
Group: RUG – ENTEG – DTPA
Supervisor: Jacquelien Scherpen and Bart Besselink
My name is Melvyn Wildeboer, I am 23 years old and I live in Smilde, a small village around 40 km south of Groningen. Ever since I was young I have been interested in solving puzzles and riddles, and because of this, together with the fact that I really enjoyed the subject Mathematics in high school, I decided to start with the Bachelor's Degree Applied Mathematics in Groningen after finishing my secondary education. As I really enjoyed the courses that centered around Linear Algebra and Systems and Control, I decided to continue my education in Groningen with the Master's Degree Applied Mathematics Systems and Control. During my Master Research Project on hierarchical control for linear dynamical systems, which was supervised by Bart Besselink, I experienced that I really enjoy doing research and learning more about the amazing world of mathematics. This is mainly because of my inquisitive character, due to which I am always trying to learn new things, through podcasts and documentaries, or for example by learning new languages. Because of this, the prospect of a PhD program was very interesting to me. Fortunately, Jacquelien Scherpen was able to provide me with an interesting PhD project, which I will be starting with in October at the Engineering and Technology Institute Groningen . This project, which will be supervised by both Jacquelien Scherpen and Bart Besselink, is focussed on the development of model reduction procedures for nonlinear dynamical systems. I am very excited to start with this research and I am also looking forward to meeting other people that enjoy doing research and learning about mathematics.
Delft University of Technology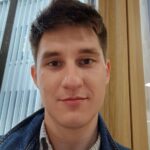 Name: Albert Saiapin
Starting date: 01-09-2023
Function: PhD
Email: a.saiapin@tudelft.nl
Group: TUD – 3ME – DCSC
Supervisor: Dr. ir. Kim Batselier
Hello! My name is Albert Saiapin. My academic journey started in Moscow where I studied Data Science and advanced mathematical methodologies. During my master's studies, I delved deeply into the domains of Data Science, focusing on cutting-edge areas like Deep Learning, Machine Learning, and Tensor Linear Algebra Methods. My passion found a purpose as I applied these skills to the fascinating field of Recommender Systems.
Now, a new chapter unfolds as I set my sights on the renowned TU Delft. I am excited to announce my next endeavor – a doctoral research project in the domain of Probabilistic Tensor Methods. Under the esteemed guidance of Professor Dr. ir. Kim Batselier at the Faculty of Mechanical, Maritime, and Materials Engineering, I am going to explore the uncharted territories of multidimensional data analysis. With this endeavor, I aim to contribute to the ever-evolving landscape of data-driven knowledge and applications.
During this exciting journey, I am eager to collaborate, innovate, and push the boundaries of knowledge in the realm of Probabilistic Tensor Methods!"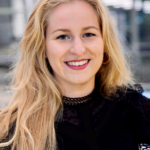 Name: Marion Coquelet
Starting date: 01-09-2023
Function: Postdoc
Email: m.coquelet@tudelft.nl
Group: TUD – 3ME – DCSC
Supervisor: Prof. van Wingerden
My name is Marion Coquelet, I obtained a PhD from UCLouvain and UMONS (Belgium) in the field of wind energy in 2022. I worked on the numerical simulation of wind turbine control strategies. I am joining the group of Prof. van Wingerden as part of the HKN project. I will be working on test campaigns of the helix control strategy, which is used for wind farm power maximization.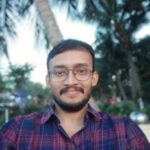 Name: Arghya Mallick
Starting date:01-10-2023
Function: PhD
Email: a.mallick@tudelft.nl
Group: TUD – 3ME – DCSC
Supervisor: Peyman M. Esfahani and Sergio Grammatico
I am Arghya Mallick. I completed an MS degree in Electrical Engineering from Indian Institute of Technology (IIT)  Kharagpur, India. I will be pursuing PhD under the guidance of Peyman M. Esfahani and Sergio Grammatico. My broad area of research interests lies in the decision-making in uncertain and dynamic environments.
PhD defences
Candidate: Ningbo Li
Group: RUG – ENTEG – DTPA
Thesis:"A port Hamiltonian framework for displacement based and rigid formation control"
Promotor: Jacquelien Scherpen en Arjan van der Schaft
Date: 29-08-2023
Location: Aula Academiegebouw
Time: 09:00
Candidate: Jingwei Dong
Group: TUD – 3ME – DCSC
Thesis: "Optimization-based approaches for fault detection and estimation: with applications to health-monitoring of energy systems"
Promotor: Dr P. Mohajerin Esfahani, Prof.dr. T. Keviczky
Date: 06-09-2023
Location:  Senate Hall, Aula Conference Centre
Time: 10:00
Candidate: Carlos Mendez Blanco
Group: TU/e – Control Systems Group
Thesis: "Digital twin development for improved operation of batch process systems"
Promotor: Prof.dr.ir. Paul Van den Hof
Date: 21-09-2023
Location: TU/e Atlas 0.710
Time: 13:30
Candidate: Suad Krilašević
Group: TUD – 3ME – DCSC
Thesis: Derivative-free Equilibrium Seeking in Multi-Agent Systems
Promotor: Dr. S. Grammatico and Prof.dr.ir. B. De Schutter
Date: 03-10-2023
Location: Senaatzaal – Aula
Time: 10:00
Candidate: Dingshan Sun
Group: TUD – 3ME – DCSC
Thesis: Multi-Level and Learning-Based Model Predictive Control for Traffic Management
Promotor: Prof.dr.ir. Bart De Schutter and Dr. Anahita Jamshidnejad
Date: 03-10-2023
Location: Senaatzaal – Aula
Time: 12:30
Next issue of the newsletter
The next issue of this Newsletter will appear in October 2023.
We encourage the contributors to provide newsworthy information. In principle, we intend to publish any message offered. However, we reserve the right to edit certain parts of a submission.
Please send your contributions to: Secr-DISC-3ME@tudelft.nl or r.c.m.kragtwijk@tudelft.nl
You receive this newsletter because you are a member of DISC.  If you want to be removed from the mailing list, please let us know by sending an email to Secr-DISC-3ME@tudelft.nl.