Message from the DISC office
Dear all,
Here is our last newsletter before the Summer break. We are happy to announce that the course program for 2017-2018 is ready! Registration will open in August so check back with us for that.
From July 3-6 the DISC Summer School 2017 took place in the NH Atlantic in Kijkduin. You can find photos and a report further on in the newsletter. We would like this opportunity to thank the organisers: Bayu Jayawardhana, Ming Cao and Tamas Kevicky. They did a great job of making the Summer School a success!
Another special DISC event that took place in July was the friendship evening the DISC co-hosted during the IFAC World Congress in Toulouse. Wonderful to greet so many of you there!
We wish you all an enjoyable and relaxing summer break with hopefully a lot of sunshine!
With best regards,
Henk Nijmeijer,
scientific director
Martha Otte,
DISC secretariat
DISC course program 2017-2018
The DISC course program for 2017-2018 is ready. You can find the course schedule here. Registration will open in August on the DISC course platform. All the DISC PhD's will receive an email about this.
There are some old favorites and also some new courses. We hope you will like it and that many of you will sign up.
The location will of course be cursus- en vergadercentrum Domstad.
DISC Summer School 2017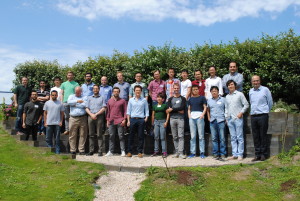 From July 3-6 the DISC Summer School took place in the NH Atlantic in Kijkduin. There was a good mix of participants, the majority were DISC PhD's but there were also students from universities in Sweden, Italy, the UK and The United States.
Everyone gathered in Kijkduin for a four day course on ""A Systems and Control Perspective on Privacy, Safety, and Security in Large-Scale Cyber-Physical Systems". There was a good mix of lectures, tutorials and discussions so the participants  could  be involved and had the opportunity to put theory into practice. The weather was also nice so breaks could be enjoyed outside!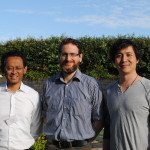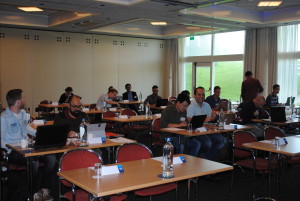 The lecturers were:
Fabio Pasqualetti, University of California, USA
Jerome Le Ny, Polytechnique Montreal, Canada
Rafael Wisniewski, Aalborg University, Denmark
Yiannis Papadopoulos, University of Hull, United Kingdom
Henrik Sandberg, KTH Royal Institute of Technology, Sweden
Manuel Mazo, Delft University of Technology,
Peyman Mohajerin Esfahani, Delft University of Technology,
Claudio de Persis, University of Groningen
Rene Pluis, Cisco Systems International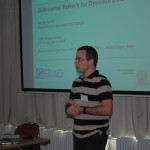 We can look back at yet another successful edition of the DISC Summer School!
Ming Cao (RUG) receives Manfred Thoma medal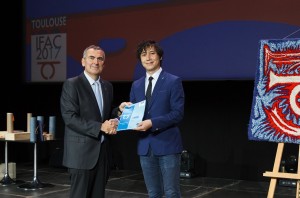 Prof. Ming Cao received the Manfred Thoma Medal, a major award from the International Federation of Automatic Control (IFAC) for the 2014-2017 triennial periods on July 9, 2017 during the opening ceremony of the 20th World Congress of IFAC in Toulouse, France. The medal is given triennially "to a young researcher and/or engineer under the age of 40 for his/her fundamental contribution to the field of systems and control in its widest sense."
Friendship evening during IFAC WC in Toulouse
During the IFAC World Congress DISC participated in a Friendship evening together with the United States and Mexico. On July 11 the invitees enjoyed a nice evening with food and some give aways. Within IFAC DISC is the NNMO (national member organisation) for the Netherlands and this was an excellent opportunity to strengthen contacts within IFAC.
Benelux Meeting 2018
Mark your calenders! The Benelux Meeting 2018 will be held from March 27-29, 2018 in Soesterberg, in conference hotel Kontakt der Kontinenten. In the coming months more information will become available.
Groningen Autumn School on Model Order Reduction
The Groningen Autumn School on Model Order Reduction is aimed at PhD students with an interest in model order reduction. In addition to discussing standard methods, emphasis will be placed on model order reduction techniques for design and optimisation, data-based model reduction, as well as model reduction for networks of interconnected systems. The school will be held from October 30 to November 2, 2017 at the University of Groningen, Groningen, the Netherlands.
The Groningen Autumn School on Model Order Reduction is organised within the COST action EU-MORNET.
Invited speakers are Serkan Gugercin (Virginia Tech) and Paolo Rapisarda (University of Southampton). The list of speakers will be appended with local and national speakers.
More information can be found on http://www.math.rug.nl/gcsc/morschool.html
Organising committee: Jacquelien Scherpen, Bart Besselink, Arjan van der Schaft
1st Summer School on Formal Methods for Cyber-Physical Systems
The 1st Summer School on Formal Methods for Cyber-Physical Systems (FM-CPS) is a new summer school to be held at University of Verona from September 12th to 16th. The 2017 edition of FM-CPS 2017 focuses on the foundations, techniques, and tools for analysis, verification, control, synthesis, implementation, and applications of cyber-physical systems (CPS). Applications deal broadly with engineering and natural systems, including signal circuits, robotics, automotive and avionics, large-scale infrastructure networks, as well as biochemical and physiological processes.
IMPORTANT DATES
Early registration fee: 4 August 2017
Regular registration fee: 4 September 2017
School dates: 12-16 September 2017
For more information about the program and about registration please visit the school  website: https://cps-2017.di.univr.it/school-editions/2017
Vacancies
Eindhoven University of Technology
The Control Systems Group at Eindhoven University of Technology has a vacancy for an Assistant/Associate Professor Control of structured networks.
More information here: https://jobs.tue.nl/en/vacancy/assistant-associate-professor-control-of-structured-networks-318947.html
Delft University of Technology
Dr. R. Ferrari at the Delft Center for Systems and Control has a PhD Position in Fault and Cyber-attack Tolerance for Distributed Systems.
More information here: http://www.dcsc.tudelft.nl/~riccardoferrar/description_PhD_2017-05-22.pdf
New people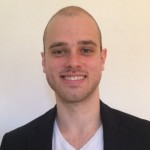 Name: S.J.A.M. van den Eijnden
Starting date:  June 1, 2017
Function: PhD member
Email:  j.a.m.v.d.eijnden@tue.nl
Group: Dynamics & Control
Supervisor: Prof.dr.ir. N. van de Wouw
Introduction: My name is Sebastiaan van den Eijnden. I am 25 years old and live in Eindhoven. Recently, I received the MSc degree in Mechanical Engineering from the University of Technology, Eindhoven, The Netherlands. The topic of my graduation project was cascade based tracking control of quadrotors, and was performed in the Dynamics and Control group. Currently I am working towards the PhD degree within the department of Mechanical Engineering with the Dynamics and Control group. The topic is about physiologic closed-loop control, and adaptive and intelligent control for medical healthcare systems, which aims towards optimal patient care. The project is in close cooperation with Demcon. My interests and hobbies are control systems, applied mathematics, weightlifting, playing drums and travelling. I often work on my motorcycle and like to travel around on the road.
Next isssue of the newsletter
The next issue of this Newsletter will appear in September 2017.
We encourage the contributors to provide newsworthy information. In principle, we intend to publish any message offered. However, we reserve the right to edit certain parts of a submission.
Please send your contributions to: m.w.otte@tudelft.nl