Organization
DISC is governed by a board consisting of representatives from the participating groups. The daily operation of DISC is directed by the scientific director, who is assisted by the DISC secretariat. The scientific director is supported by a management team consisting of all heads of DISC departments.
The organization of DISC is summarized in the following chart: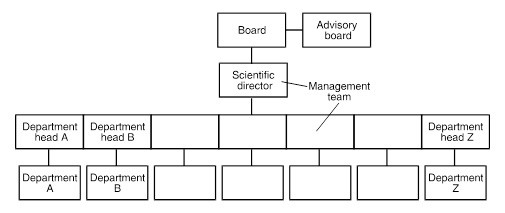 Scientific Director
Prof. dr. H. Nijmeijer (TU/e)
Office manager
Mrs. Renate Kragtwijk (TUD)
Board members
dr. J.W. Polderman (UT), chairman
prof.dr. B. De Schutter (TUD)
prof.dr. ir. K.J. Keesman (WUR)
dr. M. Lazar (TU/e)
prof.dr. ir. J.M.A. Scherpen (RUG)
prof.dr. H.J. Zwart (TU/e).
Advisory board
The DISC advisory board, composed of leading representatives from industrial, university and institutional bodies, meets once a year with the DISC board to discuss issues concerning strategy and policy
Prof.dr.ir. B. De Moor (KUL)
Prof. dr. ir. J. Benschop (ASML)
Prof.dr.ir. J.C.M. Baeten (CWI)
Dr.ir. D.A. Schipper (Demcon)
Dr.ir. E.J. Sol (TNO)
Unit DISC
Unit DISC is the council of research students of DISC. They are in regular contact with the DISC secretariat and have a meeting with the Scientific Director at least once a year. They are also responsible for the course evaluations.
Amir Shakouri (RUG) a.shakouri@rug.nl
Raphaël Goetz (TU/e) r.p.p.f.goetz@tue.nl
Eva Memmel (TUD) e.m.memmel@tudelft.nl
Mohaddese Hazini (UT) m.hazini@utwente.nl
Anne-Men Huijzer (RUG) m.a.huijzer@rug.nl